If you are looking for a highly trained and experienced podiatrist in Brooklyn, you have come to the right place. At our practice, you will receive the highest quality podiatric care. We know that many people may feel anxious about coming to the doctor, so it is our goal to make your visit with us as anxiety free as possible. We view it as our mission to educate our patients about their treatment options and to help guide them to choose a treatment plan that is most suitable and appropriate for their needs.
Scheduling Appointments
To make an appointment, simply call us or click here to Request an Appointment online.
Payment Options
We participate with some medical insurance plans. To find out if we accept your plan, please call us.
Convenient Location
Our office is located at 301 Ocean View Avenue, Brooklyn, NY 11235. Please enter your zip code or city, state below for door-to-door directions.
First Visit
Your first visit to our office is designed to get you better acquainted with all we offer as well as introduce you to our doctor and staff. On your first visit, we will review your medical history and evaluate your podiatric health. We will perform a thorough examination of your feet and explain to you whether or not you will require any treatment.
Mission Statement
Our friendly staff is dedicated to caring for you and your entire family's foot health and well-being. We take the time to create a personalized treatment for each patient and we offer a wide range of services. It is our goal to make your visit with us an extremely pleasant one.
Eugene Shapiro, DPM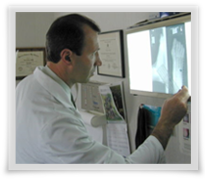 Dr. Eugene Shapiro draws on more than two decades of experience, along with degrees in podiatry and holistic health, to treat ailments above and below the ankle. Aside from run-of-the-mill maladies, such as athlete's foot, corns and bunions, the kindly foot mender specializes in tending to the pavement-pounding concerns of athletes, elderly folks, and those suffering from diabetes.
Education:
B.S. : Eastern Connecticut State University – 1982
D.P.M. : Pennsylvania College of Podiatric Medicine – 1986
L.AC : The New Center for Holistic Health & Research – 1998
Experience:
1983 - 1986
Research Assistant
Department of Physiology
PCPM, Philadelphia, PA
1986 - 1987
Podiatric Surgery Resident
Delaware Valley Medical Center
1987 - Present
Private Practice
Hospital affiliation:
1987 - 1990
Physicians Hospital, Jackson Heights, NY
1990 - Present
New York Community Hospital, NY